Founded in 1968 by John A. Heidman, IRRI-TECH has worked on thousands of projects over our 54-year history.
In the 1980s, IRRI-TECH was one of the first irrigation companies in the country to design, install and operate a computerized irrigation control system for a commercial project. This was one of the largest most sophisticated irrigation systems on a single water supply in the world. It is the product of the technical expertise of IRRI-TECH's staff and the customer working with each other. Due to the emphasis on water conservation, the entire system was computerized and equipped with its own weather station. This computerized system and weather station monitors and adjusts the watering program so well that water consumption was reduced by over 1 million gallons of water per night during the peak watering season.
Over the years, we've tackled countless largescale projects using alternative water sources, pumps, and sophisticated control packages. We've also successfully completed hundreds of smaller irrigation projects for both residential and commercial clients. We apply the same expertise and quality service to projects of all sizes.
Please see our portfolio of completed projects.
We're proud to say a significant amount of our business comes through long-term relationships, direct customer referrals, and repeat clients.
John Heidman's One Wheel Trailer
John Heidman on a Trencher
Weather Matic hires John Heidman
The Beginning of Dallas Weather Matic (latterly IRRI-TECH)
Dallas Weather Matic was incorporated on September 1st, 1968. Dr. William Tate was the president of SMU and his residence in University Park was Dallas Weather Matic's first job back in 1968. Dallas Weather Matic changed its name to Irri-Tech Corporation on October 9th, 1978.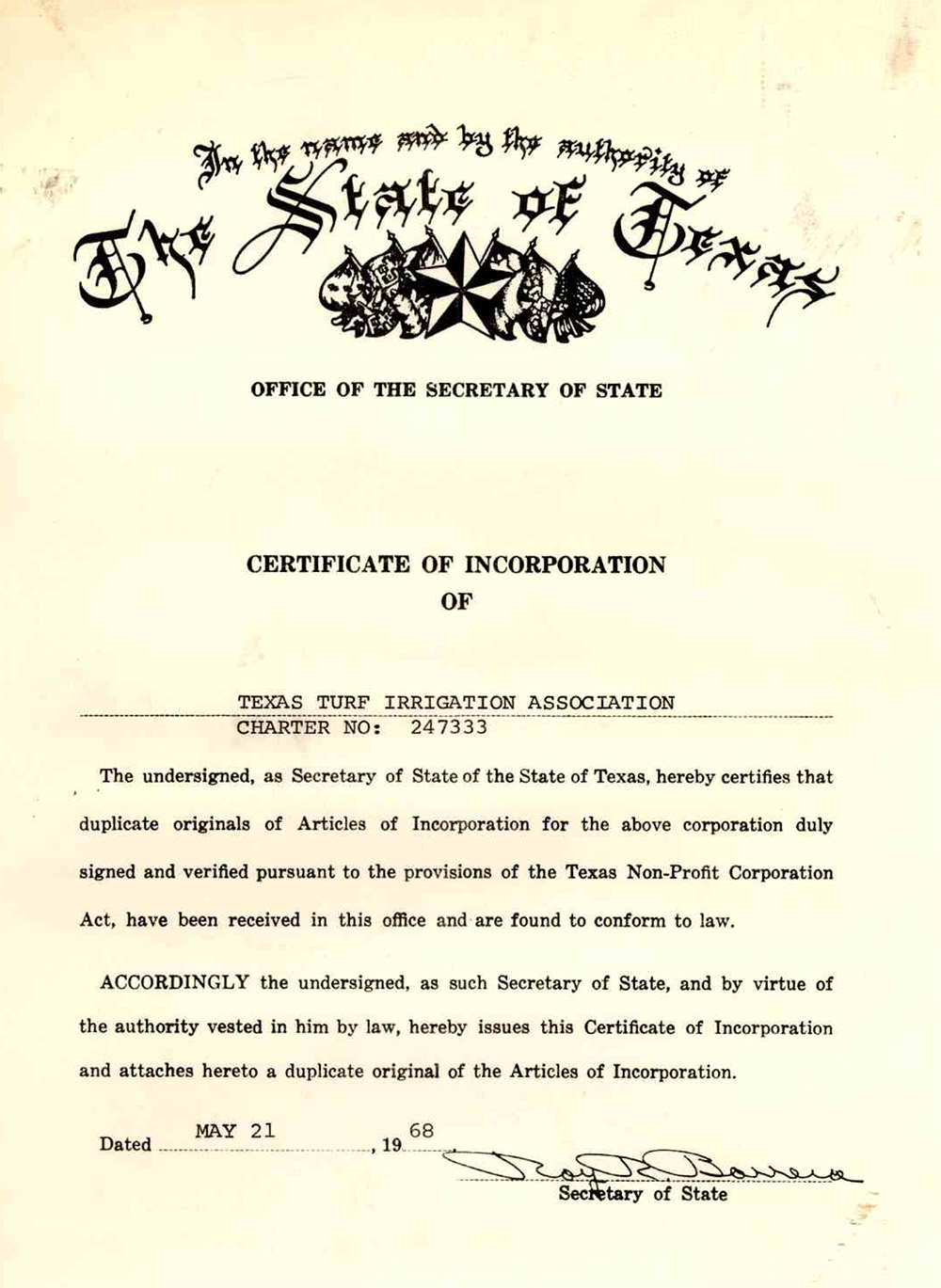 TTIA Certificate of Incorporation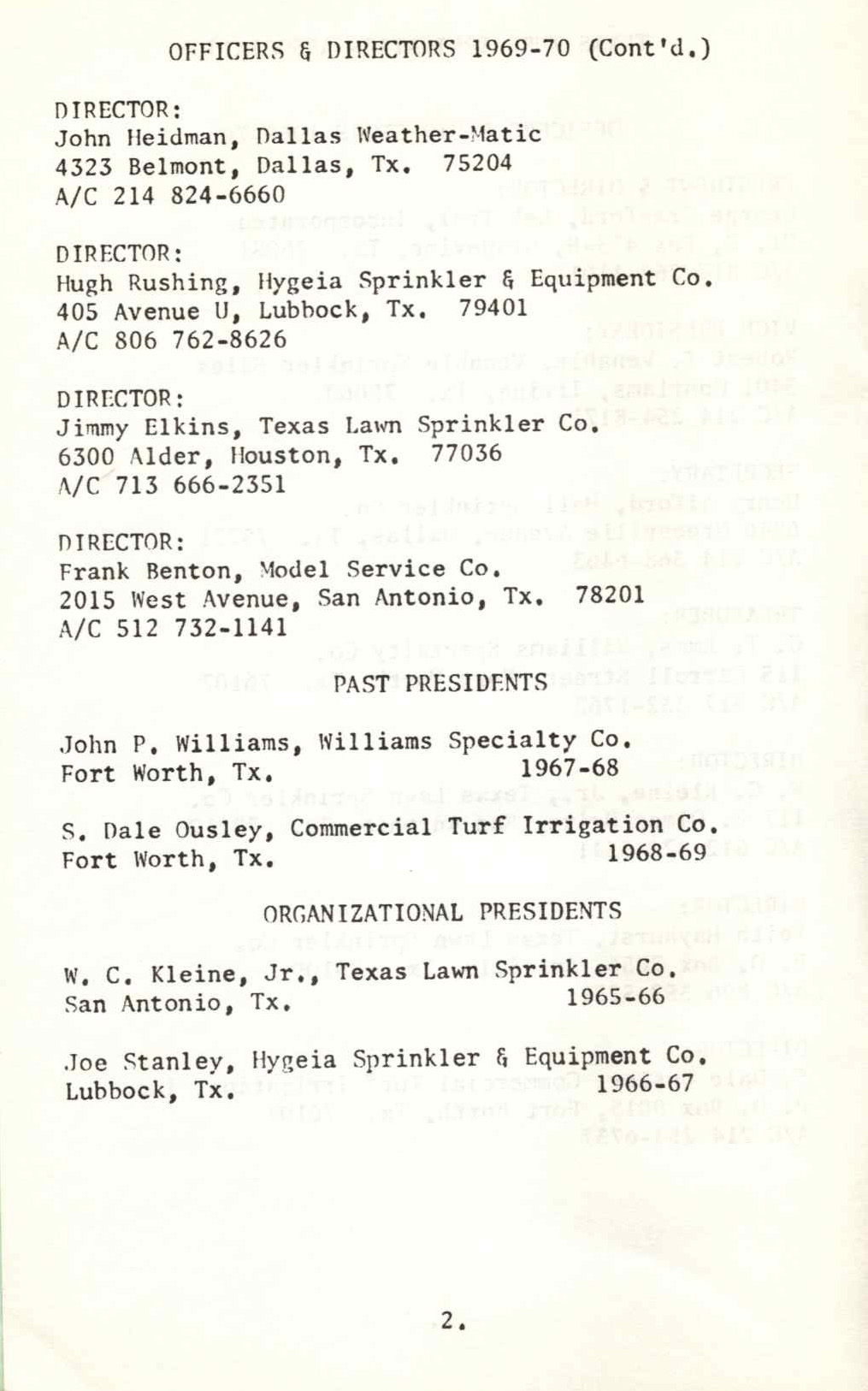 TTIA Membership Roster & By-Laws
Marvin Prestridge starts in the irrigation industry as an irrigation designer for Telsco Industries (manufacturer of Weathermatic irrigation equipment)
Irrigators Water Conservation Exam Commentary 1973
John Heidman License 2
Marvin Prestridge begins working as an irrigation designer for a contracting company known as Dallas Weathermatic
John's Letter Change of Name
Sunset Act Passes
Sunset Act Synopsis Written by John Heidman
John serves as President of the Texas Turf and Irrigation Association
IRRI-TECH Designs and installs one of the first computer-controlled irrigation systems in the world. The irrigation software with the onsite weather station saved the customer 1 million gallons a night.
Marvin Prestridge serves as President of the Texas Turf and Irrigation Association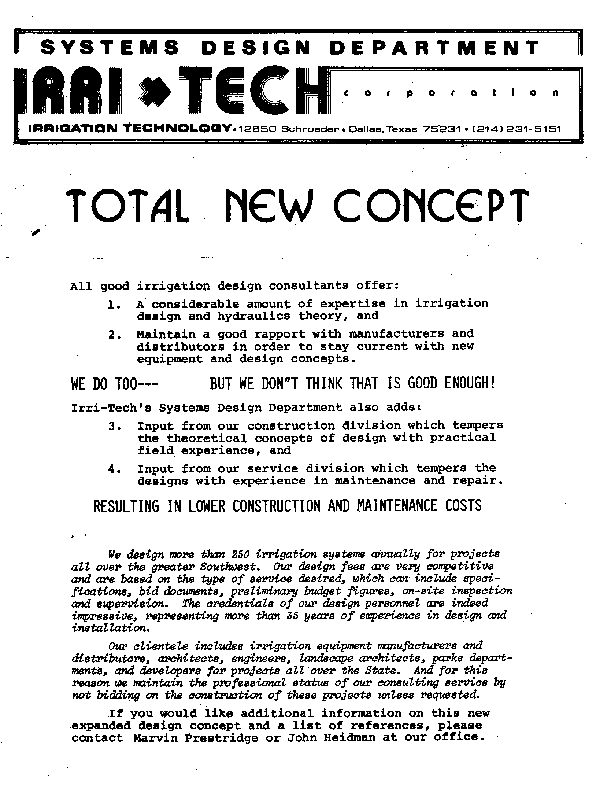 Total New Concept To Irrigation Design
IRRI-TECH Designs and installs another computer-controlled irrigation system for Alliance Airport in Fort Worth. IRRI-TECH controlled and monitored the irrigation system for years from a computer in its Dallas office.
Marvin is appointed to Vice President of IRRI-TECH Corporation
Steve (Son of John Heidman) officially starts working at IRRI-TECH full time (Texas Irrigator License #5148)
Employees Pic
John with his 1st hired employee, Curley Ray Deton (retirement photo)
Steve Heidman is promoted to Manager of estimating department
Steve Heidman is promoted to Vice President of IRRI-TECH Corporation
John Heidman prepares to retire and appoints Marvin to President of IRRI-TECH Corporation
Casey Morris joins the team at IRRI-TECH
Marvin and Steve Heidman take over ownership of IRRI-TECH Corporation and changed the name to IRRI-TECH, LLC of Texas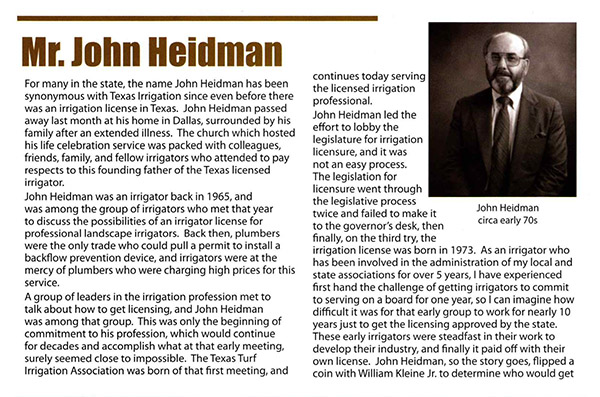 TTIA John Heidman History
The Texas Commission on Environmental Quality posthumously awarded an Honorary Landscape Irrigation License for John having held Irrigation License LI #2 in good standing since March 13, 1974, and for his contributions to the Landscape Irrigation Industry
Jose Rangel is hired by IRRI-TECH as the Service Manager
Austin Energy Green Bldg Award
Paul Reich Joins the Team at IRRI-TECH
IRRI-TECH celebrates it's 50th Anniversary in October of 2018